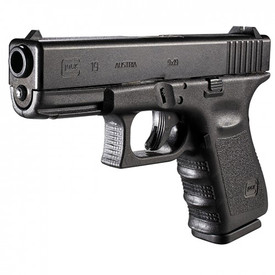 Glock 19
Manufacturer: Glock
Price: £119
Pistols
---
New from Umarex comes the long awaited Glock 19 pistol.
A non blowback 1/1 replica of the real thing. Heavy weight and with retaining all original fetaures of the Real thing, has weight of 700g and is powered by a 12 gram co2 capsule.
The trigger has the same safety features as the 9mm and has a 16 shot stick magazine that will provide up to 130 meters a second / 3 joules of power.
The co2 is situated in the handle and a hex key is also situated in the grip to enable fast reloading of gas when required.
Front and rear fixed sights , metal slide and abs body just like the real thing,
---
Please Note: This item cannot be sent directly to customers. It can be paid for and collected in person from our shop or transferred to your local RFD. Please contact us for more information.
---